An Award Winning Video Production Company In Atlanta
An Award Winning Video Production Company In Atlanta
June's Journey
|
Camouflage
Ryan
Maserati
|
Tales from Our Soul
Paolo
Banlieue
|
Luxury Grime
DJ
Contact Us and we will send you a custom video reel specific to your marketing needs.
Elevating Your Message With Premium Video Production
We deliver the results you crave, with the precision of a sharpened blade, and the power of a thunderbolt. Our video production services are a weapon of mass persuasion, crafted with precision, powered by entertainment, and aimed to strike at the heart of your brand's message.
Do not be content with the ordinary, with video production that fades into the market. Join us, and witness the power of premium video content. Whether you seek the  laughter of deadpan humor, or the explosive drama of action and adventure, we are the artists brands trust.
We spare no detail, we demand excellence. Your brand's story will be brought to life with stunning visuals, captivating sound, and a touch of the Bolt Brand. With Bolt Entertainment, you'll leave a lasting impression.
So answer the call, take a step into the unknown, and elevate your brand's message with our premium video production services. Call us today, and feel the difference.
Our creative video production team provides
Film production services to clients including but without limit to:
Concept And
Development
Commercial And Business Video Production
Feature Film Development
Live Action
Training videos
Branded Content
Video Production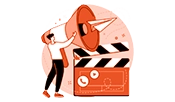 Casting For Feature Film, Commercial And Television
Documentary Development
Script writing services
Animation and motion graphics
Digital Video
Production
Unscripted Development And Production
Production For Television
Visual effects
Virtual Reality
FILM AND TELEVISION PRODUCTION SERVICES
The cameras are rolling, the lights are blazing, the scene is set. Welcome to the realm of Bolt Entertainment, where dreams become reality, and visions are transformed into cinema magic.
Our Atlanta video production team is a force of expertise and experience. We are a premium video production company in Atlanta, rising above the rest with our uncompromising commitment to quality over quantity.
From our work with Feature Films to aiding and assisting television shows, our comprehensive film and television production services will bring your vision to life with a flair for style.
Step into the spotlight, take the stage, and bring your vision to life with Bolt Entertainment.
Bring Your Message To Life With
Professional Commercial Video Production
The lights are dimming, the whispers are hushed, the stage is yours. Welcome to the realm of Bolt Entertainment, where  commercials become masterpieces.
Are you tired of the dull and the ordinary, of commercial videos that fail to stir the soul? Let us ignite the fire of creativity, and bring your vision to life with our premium commercial video production services. Our team of experts, armed with the latest technology and steeped in the lore of storytelling, will craft a commercial video that will capture your audience's imagination and leave a lasting impression.
Whether you seek to promote a product, raise your profile, or share a message, we are masters of the commercial production.
Join us, and experience the thrill of premium commercial video production. Contact us today, and see the difference we can make for your brand.
Schedule a call with our team to
start the conversation.